From the QC Times:
Just before a Scott County judge on Thursday sentenced Melvin T. Lucier to life in prison for sexually abusing one girl under the age of 12, the victim told the court she's no longer "scared."

Lucier, dressed in an orange jail uniform, declined to make a statement before District Judge Joel Barrows handed down the sentence — the four-time convicted sex offender's second sentencing to three life terms in the past two months — during an almost 25-minute sentencing hearing…

Defense attorney Michael Motto asked for concurrent sentences.

"I would argue that it's one common scheme," he said.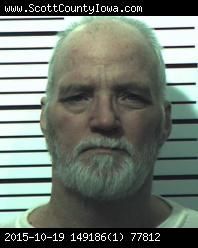 From an earlier article:
The girl, now 11, testified Monday that she, her mother and brother once lived with Lucier in his trailer on Lot 19 at the Patriot Mobile Home Park, 4847 W. Kimberly Road. She said Lucier abused her more than five times and he threatened to hurt her if she didn't do what he wanted her to do.